Praise for Children of the Quicksands
'I was swept away by this fast-paced magical-realist debut, which won the Times/ChickenHouse Children's Fiction Competition'
Fiona Noble – The Bookseller
'A joy of a book: rich, warm, powerful storytelling. A superb debut.'
Katherine Rundell – Author of Roof Toppers
'A thrilling adventure bright with the gorgeous colours of Nigeria – glorious!'
Jasbinder Bilan – Author of Asha and the Spirit Bird
'I couldn't put this down! Completely immersive & beautiful – I was with Simi every step of her journey. Daughters, mothers, grandmothers & Yoruba goddesses.
And I loved contrasting worlds of Lagos & Ajao!'
Nicola Penfold – Author of Where the World Turns Wild
'A magical adventure in a beautiful setting'
Sophie Anderson – Author of The House with Chicken Legs
'A dynamic conjuring of Nigerian village life with its characters, food, fragrances and customs…intricately imagined. I was transported and transfixed from start to finish!
A brilliant debut!'
Patience Agbabi – Author of The Infinite
'An incredible mix of history, mythology and the supernatural. Totally gripping.'
Charlotte Eyre – The Bookseller
Summary
13-year-old, city girl Simi is sent to spend her holidays in a remote Nigerian village with a grandmother she has never met.
There she finds a world of dark forests, legends and superstitions, where her witchlike grandmother dispenses advice and herbal medicine to the village. She is very tight lipped about the past and Simi is determined to unravel the family secret.
But soon Simi finds herself caught in the sinking red quicksands of a forbidden lake and a fantastical journey begins …
Children of the Quicksands is the winner of the 2019 Times/Chicken House Children's Fiction Competition. A magic realist adventure set in Nigeria for children aged 9+ years.
Order links
Available at your favourite bookseller. For example:
For the audio book click here:
Teaching resources
On the Chicken House Schools' Hub you'll find teaching resources created by Adamma Okonkwo.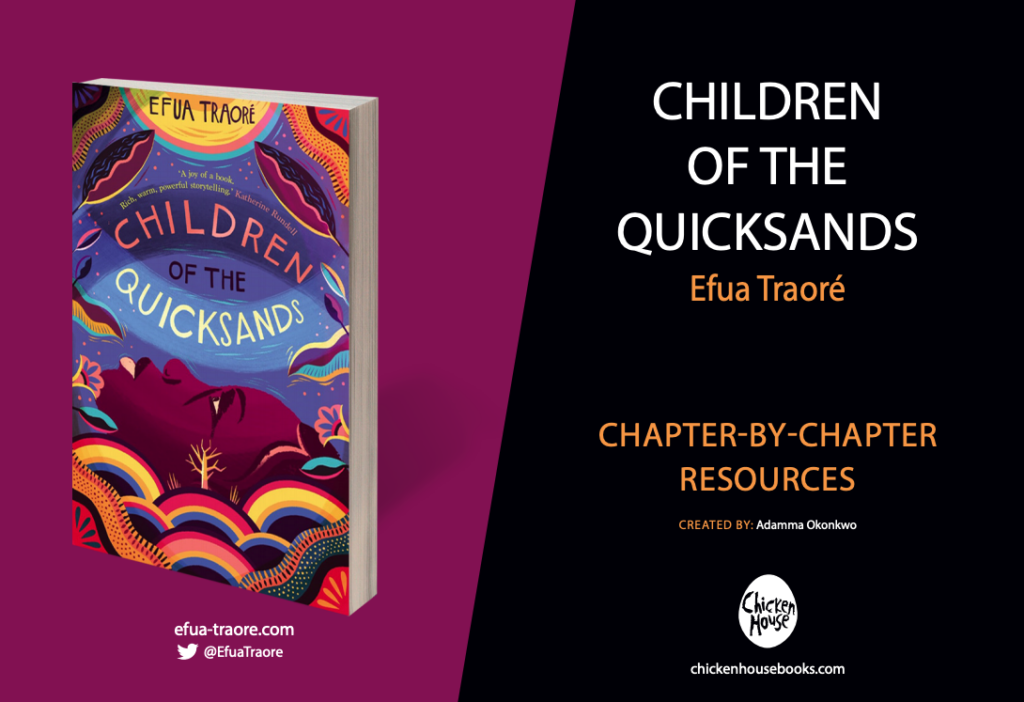 ---
For the lovely book cover design & illustrations for Children of the Quicksands I thank
Studio H, Helen Crawford-White